Click HERE to view Important Sept.2022 Truckee Fire Wildfire Prevention & Preparedness Presentation
MUST SEE WEBINAR visit: https://vimeo.com/569108043
 (
Password to watch: truckee) *
*If you were a subscriber of Nixle you will need to subscribe to CodeRED. Beginning June 1, 2022 all emergency alert communications will be sent via CodeRED. Know Your Zone! (Write it Down)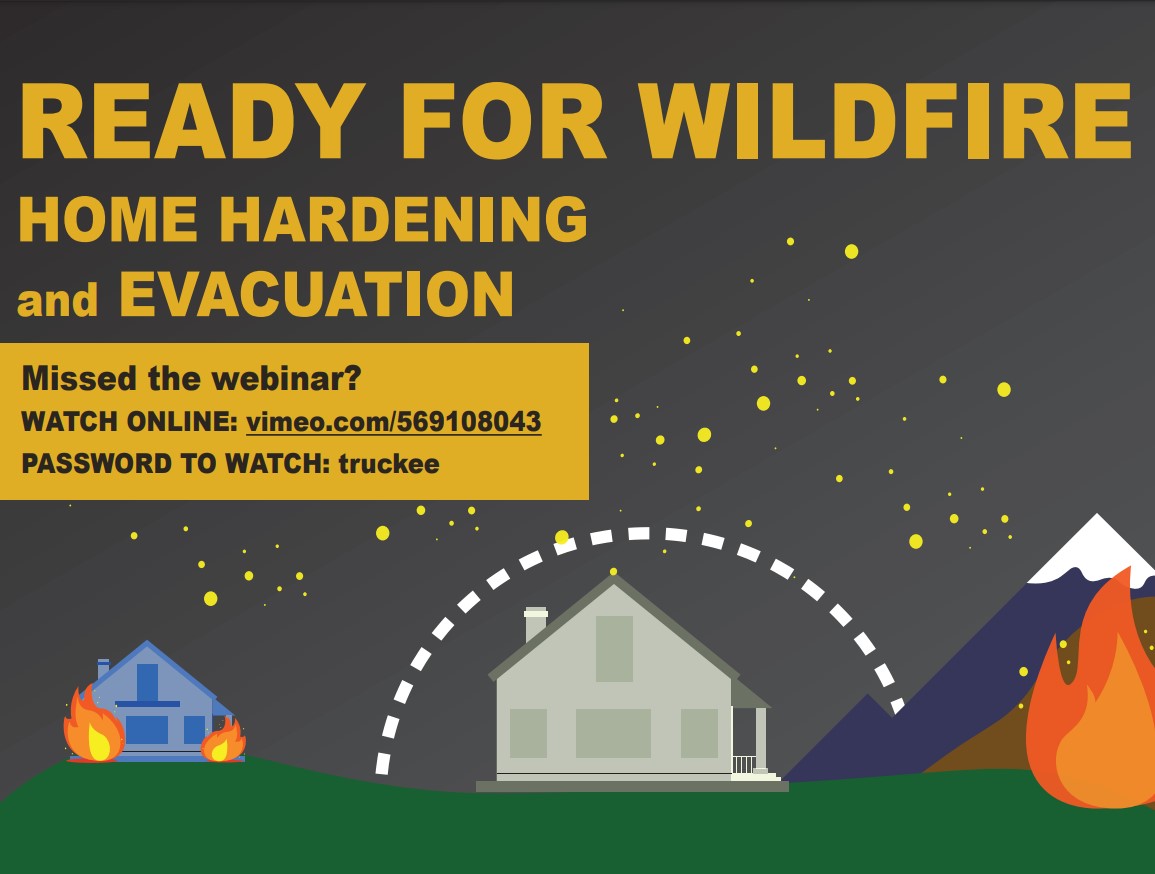 Home Hardening Webinar
Home hardening and preparing for evacuation may sound intimidating and costly, but the panel of experts brought together by GDRA's board and staff for a webinar on the topic did an excellent job of making it accessible. Bob Womack, Truckee's Emergency Manager, outlined the evacuation process. Knowing your zone is key; visit community.zonehaven.com to see yours. During the webinar, national fire safety and materials expert Daniel Gorham spoke about how you can be selective in choosing different materials for enhanced fire resistance. Darcey Messner from the Town of Truckee covered permitting details, including the WUI checklist. Nate Christensen from Tahoe Donner's forestry program reiterated the importance of defensible space, and how you'll want to swap your yard's wood chips for gravel next time you're in landscaping mode. Adrian Juncosa, our board vice president, covered home hardening upgrades. For instance, you don't need to swap out an entire wooden fence, instead just exchange the 5 feet closest to the house for metal. 
It is reassuring how small improvements to how we take care of our homes can increase the chances of making it through a wildfire event with minimal damage. Just look at photos of the aftermath of the Camp Fire to understand that homes that underwent some measure of hardening stood a much better chance of surviving than those that didn't. 
Living in the wildland urban interface, the threat of wildfire is a fact of life. Those of us that live here know that with the great beauty that surrounds us comes great responsibility, both for our natural surroundings and for our neighbors. This year especially, our awareness is heightened, and every red flag day puts us a little more on alert. Perhaps those are the best days to do a little something extra, like sweep pine needles off our deck and roof, and ask a neighbor if they want help trimming bushes. If the past year has taught us anything, it's that the only way we're going to get through times like this is together. 
___________________________________________
Glenshire/Devonshire National Firewise Certificates:
2021-2022 National Firewise Certificate
2020-2021 National Firewise Certificate
2019-2020 National Firewise Certificate
RESOURCES
The GDRA Firwise Committee is organizing a 2021 community wildfire preparedness workshop (webinar) for early summer. Stay tuned, and sign up for email communications to get the latest on our Firewise® Community.
What is Firewise?
Firewise® USA is a National Fire Protection Association program that teaches people how to adapt to living with wildfire and encourages neighbors to work together and take preemptive action to prevent losses.
IF YOUR HOMEOWNER INSURANCE IS CANCELLED OR NOT RENEWED PLEASE CONTACT THE CALIFORNIA DEPARTMENT OF INSURANCE
1-800-927-HELP(4357).  VERY HELPFUL INFORMATION ON DEPT OF INSURANCE SITE: Top 10 Tips on Finding Residential Insurance
CALIFORNIA FAIR PLAN is offering insurance discounts to  FIREWISE COMMUNITY MEMBERS !

Buckhorn Ridge – Cambridge Estates – Elkhorn Ridge – Glenshire Devonshire – Sierra Bluffs – The Meadows
FIREWISE COMMUNITY MAP (by Fire Safe Council of Nevada County)                                                    Buckhorn Ridge – Cambridge Estates – Elkhorn Ridge – Glenshire Devonshire – Sierra Bluffs – The Meadows
Starting July 1, 2019, California requires all garage do0r openers in residential applications be equipped with battery backup click here for California SB 969 FAQs                                         
Glenshire Devonshire Residents Association became a Firewise® USA site in October of 2018.
How does it work?
Firewise USA provides a collaborative framework for neighbors to reduce wildfire risks at the local level. The national program gets down to the neighborhood levels, providing tools, education, and plans for increasing a home's chance of surviving a wildfire while making it safer for firefighters to defend their home and neighborhood.
The program has annual renewal requirements – in order to remain a Firewise® USA site, a neighborhood must complete a certain number of hours and meet criteria to be recertified.
Why should I participate?
Scientific research has proven that when adequately prepared, a home can withstand a wildland fire without the intervention of fire suppression services. And when firefights do become involved in saving a home, Firewise® Communities provider a safer working environment to help make a dangerous job safer. When an entire community gathers together to make the neighborhood a better place, everyone benefits. The new normal is a year-round fire season, and our community must respond.
LOG YOUR TIME
Have you already completed your defensible space work? Log it in our Firewise® system here.
Log Defensible Space Hours
If you are interested in volunteering, would like to be a part of our Firewise® Committee, or have additional input, please send us an email.