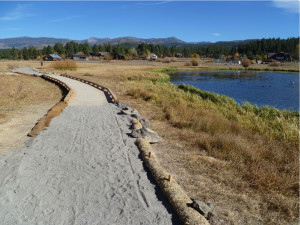 It is important that everyone practice safe social distancing guidelines, or the Lake Trail could be closed in the future. Thank you and stay safe!

The Lake Trail following a path completely around the Glenshire Lake is becoming a reality. Starting at a trail head behind the clubhouse, it will stretch over 4,000 feet 6 feet wide. It will meander over a proposed bridge across the spillway, the existing dam and then back to the clubhouse across the wetlands on a wooden boardwalk. The trail will have several rest areas with trees, boulders, shrubs and rocks. 1,800 feet of decomposed granite was installed in the fall of 2002 to kick off the project. The trail head was started in October 2003. Six hundred feet of boardwalk was installed in the fall of 2005.  Another section of 350 to400 feet of decomposed granite was installed in the spring of 2006.
A fund raising campaign is in effect through the Truckee Tahoe Community Foundation. Check with the Association office for special sponsorship opportunities.